Grand Strand Adventures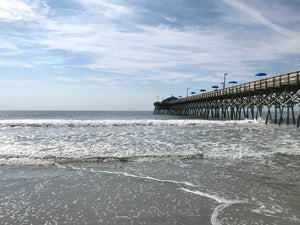 Hello humans. I'm Cord and i'm new to the blog community at

 

bsbrands.com

 

but I have a diverse array of interesting topics and deep dives that i'm excited to share with you over the next few months. But first, we start with something that i'm becoming more and more obsessed with as I get older... delicious food! So come with me virtually, as we take a look at one of the hot spots of the American Southeast. I'm happy to share with you the '2018 Food Tour of the Grand Strand' on the South Carolina Coastline.
We spent hours and hours combing thru locations, online reviews, and tips from locals to develop the following list. However, this is the first time we have documented the experience in the past 5 years of doing this experiment. So take the following data for what it is, a snapshot of the Summer of 2018. Enjoy.
Costa Coastal Kitchen & Bar
We always aim for high altitude quality, without the stuffy, pretentious environments. Costa is tough to beat. Stuffed banana peppers with sausage, tomato bisque soup, Parmesan encrusted scallops, and spicy penne alla vodka with chicken are all a must try. Bar manager Chris did a hell of a job with making the experience smooth and fun. $74 for two people (not including gratuity) but that does include a couple domestic beers. Sexy tip: get a reservation and park at the hotel next door if need be, without the fear of being towed. #wouldgoagain
If you want to eat crab until you blackout, we highly recommend Captain George. For two people its $85 (not including tip) but its quality is unmatched and runs like a well oiled machine from a operations perspective. Please keep in mind that I'm not a buffet guy or someone that would stand in a DMV style line, just to get into a place. But once a year, I make an exception. You must come in a party of 4 or less. If you don't, you will be waiting for hours. No joke. Sexy tip= the place is huge and its going to be crowded no matter what day or time you go so wear comfortable shoes. #wouldgoagain
Kings Sushi

112 US-17 BUS, Surfside Beach, SC 29575
Every once in awhile I get a serious craving for sushi and Kings is able to fill that void. Its clean, friendly and tasty. Don't let its storefront window fool you via its "strip mall location". Its actually a good size space once your inside. Price for two= $60 but that includes two monster import beers. Sexy tip= Go later in the evening to avoid the crowds. #wouldgoagain
Franco's NY Pizza

3120 S, US-17 BUS, Murrells Inlet, SC 29576
In 5 years of looking, this is the best pizza we have ever had in the area. Not perfect, but close enough to allow the NY style in their name. I'm a pizza prude to where I scoff at the big chains so if I'm praising a place you know its worth checking out. I literally ate the leftovers for breakfast for the next three days. Two big pizzas and a good size Cesar salad= $60. Sexy Tip= call your order in and give them time. They stay busy in the summer and for good reason. #wouldgoagain
Greg's Cabana Bar & Grill

2800 US-17 BUS, Garden City, SC 29576
It should come with no shock that there are tons of traditional bar and grill style of establishments throughout the Grand Strand. Just by draw of the hat, this year we hit Greg's. Its a very live, southern, 'hole in the wall' environment. The staff was friendly but its a seat yourself kind of place and don't be surprised to see appetizers served on paper plates. If you are looking for a local dive for beer & trivia, this is your place. Sexy tip: decent burgers and wings, so use this place as a chill night to wear casual clothes and get back to the beach. #pass
The only 'chain' that we checked out this year and I will for sure compliment the friendly staff and beautiful atmosphere. But to be frank, its bar quality food at best. Ribs were decent but nothing else to write home about except the view on the water.

 

Price for two= $60 but that includes two regular size domestic beers.

 

Sexy Tip= In the summer they are open until 10 PM which helps but save this place for a last resort. #pass 
I hope you enjoyed this snapshot of our recent experiences. Coming soon, more of my takes. How exciting?! See you next time and be safe.
6 Responses
Leave a comment